Don is a 5,600 hour pilot who has owned and flown many aircraft. He enjoyed flying his converted three bladed / 300 HP
E 55 Baron
from Waupaca (WI) to his airpark in Florida, but being an engineer, his favorite of all was the Glassair he built. Don is pictured standing in front of his Florida hangar along with his
Skylane
,
Kit Fox
, and, of course, his favorite, the
Glassair
.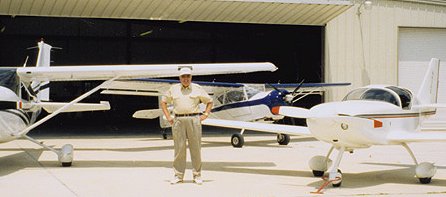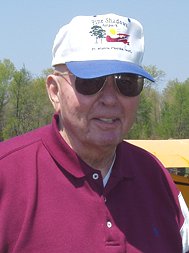 Don was the CEO of the
Waupaca Foundry
, having taken over the operation in 1955. He retired in 1997. It was his perseverance, dedication, and hard work that made the foundry what it is today, employing around 3,600 people in 6 plants. The city of Waupaca has even named the Waupaca Municipal Airport (KPCZ)
Brunner Field.
It was also Don who came up with the idea of a club hangar for 68C, and because of his generous donation the project got off the ground. He is among the 60-80 flyers who look forward to the Friday luncheons.
We are all grateful to Don!